"If I was a Magical Girl I would be the strongest magical girl ever," says Brittany W., better known in the cosplay community as Dandelionswish. The remark is a reference to one of her favorite anime series, but it just might actually be true. Dandelionswish has been cosplaying for ten years, and she's always delighting fans and convention goers with her magical costumes.
Dandelionswish discovered cosplay at Otakon 2001. "I didn't even know it was 'cosplaying,' but I thought it was super cool that people made their favorite characters outfits," she says. "My first impression was it was part of the convention experience to be in a costume, even if it was a really simple one. I thought to myself I would make my own costume for my next convention."
"I remember being so shocked and surprised I started crying!"
That next convention was Anime Festival Orlando. "I have to admit my first costume was mostly made by my best friend, Amy. I didn't know how to sew and I remember us trying to figure it out together. We cosplayed as our original characters that were Magical twins, and even though we looked like rip-off Sailor Scouts, it was a really fun experience!"
Dandelionswish learned how to sew after that first experience, and she has continued to push herself towards perfecting her craft. She's now a graduate of the Fashion Institute of Technology with a BFA in fashion design, and during the work week she's a Women's Fashion Stylist at Uniqlo in New York City.
As she's developed her skills over the years, Dandelionswish has won numerous awards at conventions for her costumes. Winning one particular award, though, was an especially magical moment for her. "The most special award I've won has to be 'Best in Show' at Metrocon 07, where I competed with my best friend as two characters from Full Moon wo Sagashite," she says. "We put a lot of hard work into our costumes but the competition was fierce. Once they announced the higher awards and we weren't called I honestly thought we hadn't won anything. So when they called our name for 'Best in Show' I remember being so shocked and surprised I started crying! I'm a big cry-baby, but I was just so happy!"
Full Moon wo Sagashite has been the source of Dandelionswish's favorite character as well as her favorite costume. "[Mitsuki] is not your average anime character, she doesn't fit into any category," she says. "She's just a young girl trying to live her dreams, but that can be very conflicting and scary. In the end she has to move forward. I just think she's really inspiring and easy to relate to."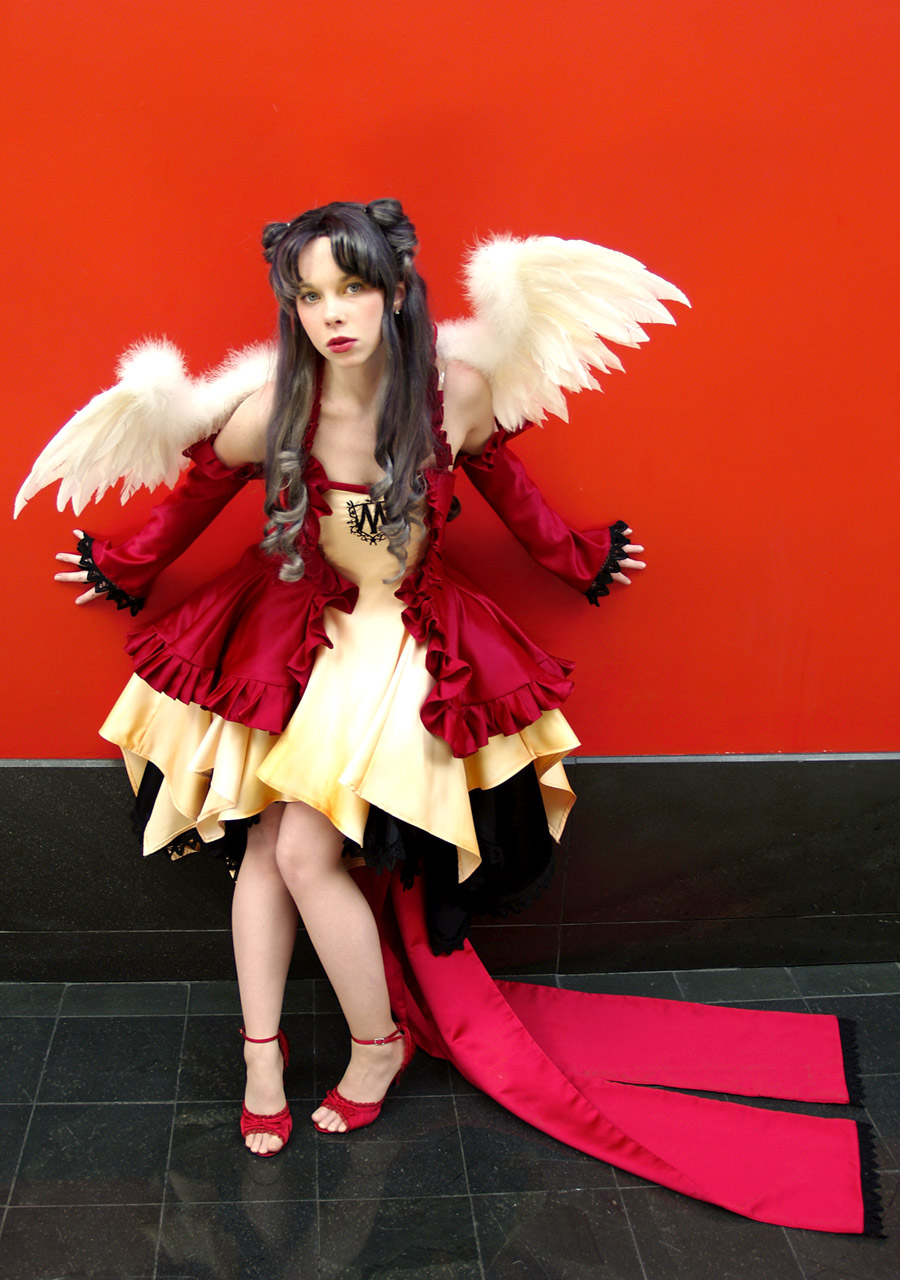 Dandelionswish's love of anime, combined with her amazing cosplay craftsmanship, has led to another new and exciting development as she was recently selected to be one of the new Crunchyroll ambassadors. "I'm really excited to of been selected as a Crunchyroll ambassador because it allows me to partner with Crunchyroll and other Ambassadors to meet new people and promote anime and cosplay," she says. "I think it will open doors for me and I am really grateful for the exposure. Quite a few of the current ambassadors are cosplayers I really admire, so I was very flattered to have been selected!"
"I'm so emotional, and would give everything I've got to save everyone."
For anyone new to Crunchyroll and the anime world, Dandelionswish recommends Sword Art Online, Shin Sekai Yori, and Puella Magi Modaka Magica. "Sword Art Online aired recently and became very popular instantly," she says. "The plot is easily accessible for a new anime watcher and the characters are loveable—you can't help but get attached to them! It has a great balance of action and romance. Shin Sekai Yori is currently airing and is mysterious and heartwarming. Although the art and character designs look cutesy this series has a lot of depth and character development.  And finally Madoka Magica will blow your mind. It looks like a cheesy magical girl series but is the exact opposite. It's complex and riveting. You'll want to watch the whole series in one sitting! It makes you question your very existence. WATCH IT!!"
Puella Magi Modaka Magica is also the anime that inspired Dandelionswish to say she's the most powerful Magical Girl in existence. "The main heroine in Magical Girl series are not usually the strongest fighters, or the smartest problem solvers," she says. "They are usually just average girls who end up caring so much for their friends, for the world, and for whatever their fighting for, that it unlocks a power in them stronger than anyone else. They basically gather strength from their deepest feelings of caring for their friends and the world to fight. I usually get made fun of for being naive, and for getting over emotional, but I can't help it! I care about everything I do. And thus, I think if I were a magical girl I wouldn't be a great fighter in battle, but in the end I would WHOOP BUTT because I'm so emotional, and would give everything I've got to save everyone."
Friends are indeed very important to Dandelionswish. "They're the people you laugh with, you cry with, you share with, you learn from… I definitely have some amazing friends," she says. Her friends have also been very supportive of both her cosplaying and her dreams. "When you're interested in anything alternative (i.e cosplay) people are going to make fun of you… So it's really important to have a strong sense of self and know it's 'OK to be different', friends are super important for this, they accept you for who you are, and might even be joining in your strange activities!"
For now, those activities are making a name for this talented cosplayer. Dandelionswish is looking forward to Katuscon in the near future, and for the rest of 2013 she has dream costumes to work her magic on and new places to travel to. She wants to keep developing her skills, both in cosplay and fashion design, and she hopes one day to be a Visual Director for a high-end clothing company.
Dandelionswish has one special person she wants to thank, someone without whom she would not be where she is now. "I could not of accomplished even half of what I've done without the support of my loving boyfriend who is also my very talented photographer. I've put him through a lot over the years in search of 'the perfect picture,' so he deserves a lot of credit for helping me build my cosplay portfolio (and keeping me sane)."
So what is Brittany W. wishing for when she blows on dandelions these days? "If I told you, then my wishes wouldn't come true," she says, and she's not going to let anything ruin the magic in her life right now.
Rei Ayanami photograph by Anna Cosplay Photography
Anime Alice (top) photograph by Joseph Chi Lin
Panty photograph by Joseph Chi Lin
Mitsuki Kouyama photograph by Jeremiah Bird

Sakura Kinomoto photograph by Jeremiah Bird
Merle photograph by Seafaring Paradise
Anime Alice (bottom) photograph by Jeremiah Bird